To apply for a real estate business license, you need to meet the "fit and proper" guidelines issued by the Estate Agent Authority (EAA). Estate Agent Authority will explore your past criminal records including but not limited to rigging, fraud or other dishonest acts, such as theft, handling stolen goods, using false documents, leaving without payment, etc.
In other words, past criminal records will affect license applications. However, it is not absolutely impossible to successfully apply for a license with a criminal record. When processing the license applications, EAA staff will also consider whether the criminal record is related to professional character. For example, accidental driving and fighting when young may not necessarily affect the success of the application. However, there is no explicit stipulation on what can and cannot affect the application. Instead, it depends on the judgment of the staff of the EAA. After knowing that you have criminal records, the EAA may also give you a chance to defend yourself, hence having a criminal record does not necessarily mean you can never obtain a license. 
However, if you really have a criminal record, you must declare it. Do not deliberately conceal it. If you do not declare but they are still discovered by the EAA, you may be rated as unreliable and unsuitable to become a licensee, and you may even commit another crime. 
How can we help?
2CExam provides HKSI LE, IIQE, EAQE and SQE related exam preparation materials. We sell mock question banks for EAQE and SQE in Chinese and English. We also offer 1 on 1 tutorial services. Besides, we have also made free bibles and free tutorial videos for EAQE and SQE and posted on public channels such as Youtube/ Bilibili/ Tencent/ Iqiyi. 2CExam has been an exam training expert for years. Should you need any help please visit www.2cexam.com or contact us through:
Phone +852 2110 9644 Email: [email protected] Wechat: hk2cexam WhatsApp: +852 9347 2064
Please support us by leaving comments and likes if you think this article helps you!
You can scan or click on the QR codes to visit our social media.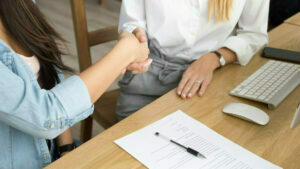 Should Hong Kong bank employees apply for an HKMA license or an SFC license? According to the licensing requirements for real estate practitioners, passing relevant qualification exams is a necessary condition for obtaining a real estate agent (individual) license or a salesperson license. The Hong Kong Securities and Futures Practitioners Qualification Exam (HKSI LE) is…