Everyone doesn't like revision, since it is unavoidable, it is better to find a way to improve the efficiency of revision, and make a quick decision!
Time allocation
After reviewing once, although it has been recited, you must take time to review it again within two days. Even if you just read it quickly, it can effectively enhance your memory. Because the brain needs time to digest newly learned things, you can better organize your newly acquired knowledge by reading it a day or two after you finish it.
You can make good use of commuting/ driving time to watch Youtube courses made by 2CExam, instead of watching shaky text on the bumpy road. If you don't want to carry the test questions with you when you go out, you can also use the online version of the mock test material to review, grasp the time in your spare time, and become a time management master 2.0!
Improve the review efficiency:
You can also listen to classical music or white noise during review. To help improve students' review efficiency, a French study found that students who listened to classical music performed better in the test than students who did not listen to any music. White noise is a sound with a consistent frequency within a measurable frequency range, such as rain, cafe noise, ocean waves, pencil writing, and so on. Students can find all kinds of choices on Youtube through keywords such as "concentration music" and "white noise".
Set reasonable goals for revision, not too many at once. Breaking down and reviewing the content can not only help arrange time, but also increase candidates' sense of success and have more confidence in taking the exam.
Make sure to understand as well as before continuing. Only when you understand the relationship between principles, cause and effect, and meaning can you master them and use them quickly in the exam. Don't be afraid to spend time comparing and contrasting different and similar concepts graphically, and don't save time understanding the cause and impact behind it. Since the memory of the systematized content can be much longer lasting than the mechanized memory, and it can be easily selected in the mind.
Practicing mock exam questions is absolutely beneficial for revision! The champions of public examinations such as the entrance examination, the college entrance examination or the diploma examination will definitely practice past paper, because input (absorption of concepts) does not mean that you know output (application of concepts), just like you know a lot of English words but sometimes you just can't come out. Doing more mock test questions is not actually expecting to see the same question again in the test, but relying on the test taste brought out by the practice questions and elusive answers to understand what answers should be selected in the real test. With more practice, you can come into contact with many different question shapes, master the skills of choosing answers, and improve your test performance. In addition, the allocation of time for answering questions will be grasped more quickly. Especially for counting questions, you must calculate by yourself by substituting different questions to know whether you understand or not using the recited formulas.
Find a reading buddy, you can review with your classmates, each note down the things you don't understand and the questions you won't answer, and then discuss it together. You can also skim the review manual together to make sure that you don't miss any key points. Because Wen Shu is always inputting information, but the test is about how much you can output. When teaching others, let yourself organize it in your brain before outputting, and the students who are instructed may also benefit from the logical relationship they have learned. Improve study efficiency together.
Diet:
Antioxidant blueberries and tomatoes to enhance short-term memory, as well as nuts and walnuts for the brain, blackcurrants and broccoli for vitamin C and K to enhance brain speed and cognitive performance.
Don't forget to drink plenty of water to keep your body hydrated and make your brain work faster. It is recommended to drink some water every 20 minutes or so when studying, but it is necessary to drink in small sips so that it is easy for the body to fully absorb.
Prepare coffee, energy drinks, mint-flavored chewing gum (chewing gum), and Wasabi-flavored snacks in advance to prevent sleepiness! Some people always overestimate their concentration before reviewing, thinking that they can concentrate on warming for hours, but in fact there are many excuses during review, such as pouring water, opening potato chips, looking for snacks, etc. In fact, these things can be prepared in the morning, so when the book is warm, there are fewer excuses to walk away.
Spot skills:
Don't waste too much time on difficult topics. If you encounter a question that you can't understand, choose an answer at will, and finally go back and think about it slowly. With any luck, you're more likely to find hints between the lines of other questions.
Look out for words with high certainty, such as all, none, all, none, eliminate, exempt, only, only, exclusive, only, only, impossible, never, etc. There are exceptions to many situations in the world, so many times the substitution method will not be used "only" or "all"
If students feel confused when taking the test, they can substitute technical words into their daily life examples. For example, if the question asks whether all banks are registered institutions, you can substitute some smaller banks in Hong Kong. For example, the newly emerging virtual banks ZA Bank and WeLab Bank have not participated in the securities business.
Be in another man's shoes, place yourselves into the perspective of the regulator. For example, regulators don't really care whether your company is making money or losing money, or whether your company's fees are the second cheapest or the fourth cheapest in the industry. Instead, they will pay attention to some documents, regulations, and conflicts of interest. question.
Free discussion forums/communication groups
2CExam provides some test communication groups, which are convenient for connecting candidates from all walks of life to ask and answer questions. Students are welcome to join, and actively ask questions and answer!
(Chinese) HKSI LE Securities and Futures Exam (must introduce yourself)
2CExam Real estate examination discussion and real estate peer exchange
https://chat.whatsapp. com/JmpdRPvnqHTH8OCmwbjzNM
(Chinese) IIQE Insurance Intermediary Qualification Examination (must introduce yourself)
HKSI LE Exam Discussion
IIQE Exam Discussion
https:// chat.whatsapp.com/JUUEH9ivOEU40OVi9K8oDR
How can we help you?
2CExam mainly sells products related to HKSI, IIQE, EAQE and SQE exams, also provides one-to-one private tutoring services, and produces HKSI LE Papers 1, 2, 6, 7 , 8, 12, IIQE Papers 1, 2, 3, MPF and free YouTube/Bilibili/Tencent/iQiyi instructional videos for real estate big and small brands. 2CExam has many years of experience in the securities, insurance and real estate industries. If you need help, please visit www.2cexam.com.hk or contact us by the following methods:
Tel: +852 2110 9644 Email: [email protected] WeChat: hk2cexam WhatsApp: + 852 9347 2064
Please support us by leaving comments and likes if you think this article helps you!
You can scan or click on the QR codes to visit our social media.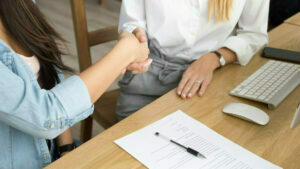 Should Hong Kong bank employees apply for an HKMA license or an SFC license? According to the licensing requirements for real estate practitioners, passing relevant qualification exams is a necessary condition for obtaining a real estate agent (individual) license or a salesperson license. The Hong Kong Securities and Futures Practitioners Qualification Exam (HKSI LE) is…