Should I take the HKSI Hong Kong Securities and Futures Exam in Hong Kong or the Mainland?
For mainland candidates, this article will be very useful. First of all, the exam can be taken in Mainland China, but there are many restrictions. In this article, I will analyze the advantages of taking the exam in Hong Kong.
First of all, if you plan to take the exam in Hong Kong, one of the biggest advantages is that more exam sessions are conducted in Hong Kong. In fact, the lack of exam sessions in Mainland China is perhaps one of the biggest shortcomings. In Hong Kong, there are basically exams almost every day from Monday to Saturday, especially Paper One. The frequency of the exam sessions are very high. Even the relatively unpopular papers will have session(s) once or twice a month. This is one of the biggest advantages of taking the exam in Hong Kong.
Generally speaking, Mainland China holds the exam 3-4 times a year – maximum 4 times; this would have tremendous limitations for many people. Since the exam consists of many things to be memorised and the exam requires candidates to have a broad yet miscellaneous knowledge of the topics, if you failed the first time, you will need to wait for a long time until the next exam session opens. By then you will forget most of the things you have studied and need to do revision again. 
In addition, there is no threshold for the LE exam in Hong Kong, and you can even take the exam at the age of 3, even without any securities or future knowledge. For Hong Kong securities exams in Mainland China, there are qualification requirements. You must first be a practitioner with relevant qualifications in Mainland China, you not only need to pass the exam, but also need to be registered, which means that you actually have a registration number. If you take the exam in Mainland China, you need to pay attention to whether or not you're capable and qualified to take the exam, before you are allowed to sign up to partake in the exam. In contrast, if you decide to take the exam in Hong Kong, there is no such requirement. It doesn't matter if you are not a practitioner in Mainland China, nor if you have not taken the Mainland China's securities industry exam. 
Thirdly, the exam results in Hong Kong are released quite fast, and there are many computer-based exams. Computer-based exams usually get the results right at the end of the exam. In Mainland China, you may have to wait for the results.
In addition, Mainland China only has 4 papers available for exam takers, whereas Hong Kong has all the papers for exam takers to partake in. You can take HKSI LE papers 1, 2, 3, 4, 5, 6, 7, 8, 9, 10, 11, 12, 15, and 16 in Hong Kong. Now that we have analyzed the advantages and disadvantages of the two exam locations, we should still emphasize the importance of a qualification when you have decided to take the exam in Mainland China. .
In general, if you have the relevant qualifications in Mainland China, it doesn't matter where you take the exam. If you don't, you have to go to Hong Kong to take the exam. Secondly is to see if there is a deadline for your exam. If you are in a hurry to take the exam, it is recommended to go directly to Hong Kong for the exam, because if you are in the Mainland, you will have to wait for several months for one session and probably several more for the next attempt.
How can we help?
2CExam provides HKSI LE, IIQE, EAQE and SQE related exam preparation materials. We sell mock question banks for IIQE Papers 1, 2, 3, 5 and MPFE in Chinese and English; and bibles for IIQE Papers 1, 2, 3, MPFE in Chinese. We also offer 1 on 1 tutorial services. Besides, we have also made free tutorial videos for IIQE Papers 1, 2, 3 and MPFE and posted on public channels such as Youtube/ Bilibili/ Tencent/ Iqiyi. 2CExam has been an exam training expert for years. Should you need any help please visit www.2cexam.com or contact us through:
Phone +852 2110 9644 Email: [email protected] Wechat: hk2cexam WhatsApp: +852 9347 2064
Please support us by leaving comments and likes if you think this article helps you!
You can scan or click on the QR codes to visit our social media.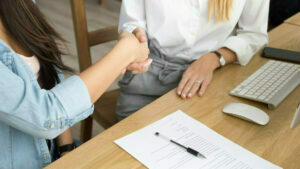 Should Hong Kong bank employees apply for an HKMA license or an SFC license? According to the licensing requirements for real estate practitioners, passing relevant qualification exams is a necessary condition for obtaining a real estate agent (individual) license or a salesperson license. The Hong Kong Securities and Futures Practitioners Qualification Exam (HKSI LE) is…