Many well-known celebrities have worked in the insurance industry in their careers. Jack Ma, Asia's richest man and chairman of the Alibaba Group, once said: "The mission of insurance is to give people a sense of security. Our lives are full of various risks and accidents, and insurance is to make people feel safe." Let's briefly introduce some famous people around the world as examples:
George Clooney
George Clooney is a well-known American actor and producer. His works include Syriana, The Gravity and Tomorrowland. In 2015, the most famous film "Syriana" won the 78th Academy Award for Best Supporting Actor. Before he became famous, he worked hard as an insurance broker and slowly accumulated life experience to become successful today.
Harland David Sanders
Harland David Sanders, founder of the KFC chain of fast food restaurants, Colonel Sanders, known by the name of 'grandfather KFC'. Independent from a young age, he also worked in the insurance industry before starting his own brand.
Wallace Stevens the Poet
Wallace Stevens is the late famous American modernist poet. Wallace studied at Harvard University and New York University. He devoted most of his life to the insurance sales industry, and earned a stable and generous commission income.
Benjamin Franklin
Benjamin Franklin is not only one of the founding fathers of the United States, but also a famous American statesman, scientist, writer and so on. Because of his poor family background, only obtaining a primary school education level, he still founded the first life insurance company in the United States. Through his continuous reading, he increased his knowledge, and even became a member of the insurance industry "Insurance Hall Of Fame".
Although insurance is not an industry which is widely popular with college students, it is still an industry that can help a lot of people and be able to lend a helping hand when your relatives and friends need it most. Therefore, this often overlooked industry is also worth seeing. As long as you treat your customers with sincerity, you too can be a successful person in the insurance industry.
Reference:
Jack Ma: Insurance agents are a respected profession. Selling insurance is to save people, not to ask for help! – Phoenix News
https://ishare.ifeng.com/c/s/v0028m4-_4EMSqBzaNkoDz8YkRaysI2bnShRuOGWfNMCYr4g__How
How can we help you?
2CExam mainly sells HKSI, IIQE, EAQE and SQE related exam products, and provides IIQE Papers 1, 2, 3, 5 and MPFE mock exam questions, also sell IIQE Papers 1, 2, 3, MPF test book, one-to-one private tutoring service, and free YouTube/Bilibili/Tencent produced IIQE Papers 1, 2, 3 and MPF /iQIYI teaching video. 2CExam has many years of experience in the securities, insurance and real estate industries. If students need help, please visit www.2cexam.com.hk or contact us by the following methods:
Tel: +852 2110 9644 Email: [email protected]
WeChat: hk2cexam WhatsApp: + 852 9347 2064
Please support us by leaving comments and likes if you think this article helps you!
You can scan or click on the QR codes to visit our social media.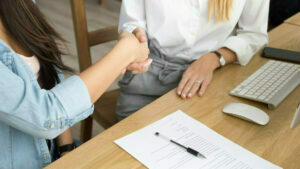 Should Hong Kong bank employees apply for an HKMA license or an SFC license? According to the licensing requirements for real estate practitioners, passing relevant qualification exams is a necessary condition for obtaining a real estate agent (individual) license or a salesperson license. The Hong Kong Securities and Futures Practitioners Qualification Exam (HKSI LE) is…