Must people in the insurance industry lose their friends and family?
NO! It is not that you won't have friends when you join the insurance industry. In fact, it depends on whether you use the correct method to sell. When you only care about commissions and don't care about the needs of your customers, selling your products blindly, inundating your friends and relatives with uninterested information. Basically, no one is willing to contact you. As long as you have a sincere dialogue with your customers, understand their needs, respect their right not to talk about insurance, and do not continuously sell or mention work, your relatives and friends will not break up with you for no reason.
Here are 10 more benefits of being in the insurance industry:
The halo of being a professional
Although it is superficial, in reality, the difference in status can bring you more convenience, such as relatives being proud of you, a wider circle of friends, and even easier to make boyfriend and girlfriend! Since people engaged in insurance are professional financial planning consultants, their professional images are admired by numerous people, benefiting your interpersonal relationship and romance.
Get to know the upper class, meeting your 'benefactor'
Insurance is definitely one of the industries in Hong Kong where you can get in touch with the most dignitaries! Befriending rich people, getting their appreciation or attention can improve your fortune and broaden your social circle and vision of your life. After gaining new experiences, you don't have to be a frog at the bottom of the well anymore. In addition, interacting with high-class people can also allow you to experience the world and learn social skills, which will add value to you.
Chat with relatives and friends
As people grow up, the topic is no longer surrounding schools, teachers, theme parks, and games, in contrast, people are concerned about how much stock you earn and what insurance policy you bought. After joining the insurance industry, you can not only share what you bought Insurance policy, but also can give free advice to relatives and friends. If they talk about any concerns or whether you can help them, generously share your views with them!
Buying Insurance at a more affordable price
The most important thing in life is not only value-added, but also protection. Life must have its ups and downs, once an accident occurs, it is already too late to prevent it. Therefore, why not plan ahead, buy suitable insurance, and get a timely 'lifebelt' when you need assistance the most. Although many insurance policies have various economical options, you can choose the cheapest policy by obtaining more comprehensive information. You can also earn some policy commissions, which can be described as an alternative discount.
Have a better understanding of what insurance products are suitable for you, the conditions and procedures of claims.
Presumably very few people read the long and complicated terms and conditions detailedly everytime, and not everyone has the patience to decide which goods and services to purchase, or ask for more details. However, insurance is a service based on fact and evidence, a deep understanding of the terms of the policy can definitely be of great benefit to customers. If you act as a salesperson and answer the questions yourself, you can minimize communication misunderstandings and reduce the risk of buying the wrong plan, and position yourself to the most suitable plan. Furthermore, even if you unfortunately need to make a claim, with your familiarity with the insurance policy, you will definitely be able to handle it easily and get assistance in the shortest possible time.
Have a better sensitivity towards the Hong Kong economy.
The product pricing, investment-linked value etc. are closely related to the rise and fall of investment products in the local market and the economic conditions of Hong Kong. Therefore, it is easier and earlier for you to grasp the new trends of the Hong Kong economy than other non-financial insurance practitioners. Even if it may not be directly related to your investment profits and losses, you can at least avoid excessive risks.
Develop your sensitivity to numbers
When your daily job is being friends with data such as premiums, sum assured, policy values, market statistics, etc., the intense exposure will improve your math sensitivity. You may not be able to benefit from this speculation, but you will never suffer if you are good at math in daily life. For example, you can choose the best and affordable plan when you buy insurance yourself, and you should calculate the most cost-effective option faster when you travel.
For both sales or non-sales positions, most of the target customer groups are a small group of specific groups. For example, most of 2CExam's customers are the one preparing to enter the financial, insurance and real estate industries or preparing for promotion in these industries. While most of the clients of the tutoring agency for HKDSE are 17-18 year old students as well as their parents. On the contrary, the insurance industry has a vast range of clients. From teens to elders, from working class to Rolex class also need to buy insurance. Housewives who need insurance protection, new home protection, directors of listed companies with heavy responsibilities, and even millionaires who open shipping companies are all customers of the insurance industry. Salespeople working in the insurance industry can enjoy a wider social circle than in the general industry.
Support and backup by a professional organization
An insurance company or a brokerage requires great human support during different operations, including colleagues in different positions. Apart from providing timely professional assistance when you need it, you can also learn different things from them, such as negotiation, presentation, social, etiquette and other skills, just keep improving.
Increase in legal knowledge
As a profession, insurance industry practitioners need to learn all kinds of legal knowledge before entering the industry, including contract law, agency law, insurance industry regulations, gender discrimination regulations, etc.
Why is it difficult to get a seat in the Insurance Intermediary Qualification Examination? One of the reasons is that the insurance industry is definitely a dream land. It pays more for more working outcomes, and both income and benefits can also break the inherent framework of general industry. If you have not made up your mind about what career you want to have, or if you want to join the insurance industry but are unsure, you may wish to refer to the above personal opinions of the editors.
How can we help you?
2CExam mainly sells HKSI, IIQE, EAQE and SQE related exam products, provides IIQE Papers 1, 2, 3, 5 and MPFE mock exam questions, and also sells IIQE Papers 1, 2, 3, MPF exam days Books, one-to-one private tutoring services, and free YouTube/Bilibili/Tencent/iQiyi teaching videos for IIQE Papers 1, 2, 3 and MPF. 2CExam has many years of experience in the securities, insurance and real estate industries. If students need help, please visit www.2cexam.com.hk or contact us by the following methods:
Tel: +852 2110 9644 Email: [email protected]
WeChat: hk2cexam WhatsApp: + 852 9347 2064
Please support us by leaving comments and likes if you think this article helps you!
You can scan or click on the QR codes to visit our social media.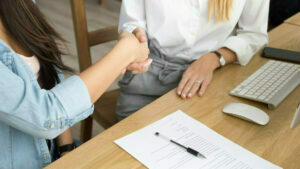 Should Hong Kong bank employees apply for an HKMA license or an SFC license? According to the licensing requirements for real estate practitioners, passing relevant qualification exams is a necessary condition for obtaining a real estate agent (individual) license or a salesperson license. The Hong Kong Securities and Futures Practitioners Qualification Exam (HKSI LE) is…