In today's society, because of education inflation, having only a college degree may not help you get a job with a high salary. While there are many people who don't actually have a particular career path inclination, as long as the salary is good enough, people choose that path. In fact, there are three major industries that are not only famous, but also have low entry requirements. Even if you just graduated from high school or even without a high school degree, you have the opportunity to make a breakthrough.
Banking Industry
Backing industries is one of the industries that college students love the most. In fact, it is more than just college students, middle school graduates can also start with entry-level positions in the banking industry and advance step by step in the financial industry. Many positions such as customer service officers, general banking officer, junior CDD/KYC officer, settlement officer, etc. do not require a college degree, and are eligible for high school graduates. If you have sufficient experience, you can even waive the minimum academic requirements for various professional licenses. Details can be found in other articles on licensing conditions by 2CExam.
Cho, Chi-ming
Cho Chi-ming is the late author of "Investor Diary" of Hong Kong Economic Journal, who was known as the "God of Retail Investors". Cho is also a financial tycoon who only has a middle school education but is still well-known in the street.
Christopher Cheung Wah-fung
Let us give out another example, Christopher Cheung, a former Legislative Council member. Christopher Cheung is an example of a low education person who can still have a successful career in the financial industry.
Chim Pui-chung
Former member of the Legislative Council, Chim Pui-chung, started business with his father before he graduated from Form five. In 1970, he entered the business in a financial institution purchased by his father, and of course, he also did well.
Insurance Industry
Although the insurance industry in Hong Kong is sometimes related to negative news, such as Joseph Lam Chok, becoming a hot topic in the city. In fact, there will be negative news in every industry. As long as you uphold professionalism, understand the products you provide before selling insurance to customers, be yourself instead of abusing bad business practices. On the contrary, you are providing external assistance for your friends to tide over the difficulties and ups and downs of life. In addition to the clients that we 2CExam regularly reach out to, the insurance industry also has many examples of high-profile successful individuals and low-educated individuals who are able to find their way out.
Kiwi Ching Mei Tuen
Kiwi had a financial entanglement with Chapman To after filming in the same show. Then, Kiwi joined the insurance industry because of the unsatisfied income in the entertainment industry. Kiwi (Left in the photo) achieved the highest education of IVE according to online information.
Kong Wa
Well-known in the TV series – Journey to the West, Jiang Hua (formerly known as Chan Muk Wa), who plays Tang Sanzang as well as nicknamed a replica of Andy Lau. Working in the insurance industry, it can be seen that Jiang Hua (Left in the photo), who graduated from middle school, can also find a way out in such an industry.
Lily Hong
Lili Hong once sang chords for Hong Kong famous singers – Joey Yung and Ekin Cheng. After her divorce from Jerry Lamb, Lily Hong transformed herself into Insurance Top Sales and lived a fruitful life. Although Lily graduated from the University of Toronto, and not majoring in business, she can still work hard and succeed.
Mary Jean Reimer
Mary Jean Reimer, nicknamed "The Wonder Woman of Hong Kong", and is the ex-wife of the late martial arts film director Lau Kar Leung, Mary Jean Reimer (pictured left) joined the insurance industry after marrying Director Lau and faded out of the entertainment industry. It seems that the insurance industry is also a potential space for development since she can become one of the industries easily.
Hung Chung Yam
Hong Kong's former well-known chief cyclist Hung Chung Yam has already entered the society before entering high school. In between his career as an athlete and insurance, he resolutely gave up cycling due to the rapid development of insurance business, and has made great strides in AIA.
Andy Tai Chi Wai
Andy Tai Chi Wai, who has Form 5 education only, did not develop well in the film industry. Therefore, he switched to the insurance industry and worked as an insurance agent at Prudential. Recently, he has become the division manager of AIA. In addition, there are also many people who are unclear about their future, or who are not highly educated, or who have lost their way for various reasons. After embarking on the road of insurance, it is not difficult to find that insurance sales is actually a good choice. Another example is Mr. Lung Chee Ming George, Senior Administrative Regional Director of Manulife Financial, who was also being interviewed before.
Real Estate Industry
For the real estate industry, the education requirements are much lower, and only the secondary form five level is required to meet the licensing requirements. It can also be a choice for people with a low education level. Moreover, the monthly rent is about HK$10,000 in Hong Kong, if you can sell a luxury house, the one-time commission will be enough for a few months living. You can even offer the 2CExam editor for a free trip.
Shih Wing Ching
Started from his career as a real estate broker and became one of the celebrities including Shih Wing Ching, whose highest education is Form 5 and Far Eastern Aviation School (not a junior college degree).
Rainbow Ching Hor Wai
Former TVB Huadan Rainbow Ching Hor Wai, graduated from Secondary Form 5, but has worked in the real estate industry for more than ten years. She has no worries about food and clothing, furthermore, and saves wealth to invest in Hong Kong as well as earns a lot of money.
All industries are fruitful, but we specifically recommend 3 industries based on our expertise and experience. Middle school graduates, social freshmen, college students, post-secondary graduates, and university Fresh Grad (Fresh Graduate) may wish to discover if these options are actually more to your liking!
Law Siu Fai
The late real estate prodigy Law Siu Fai, although dropped out of school in the third grade, but after joining the real estate brokerage profession, at the age of 33, it was inferred that he had 2 billion Hong Kong dollars in assets, and many actresses buried themselves in pursuit of wealth.
How can we help you?
2CExam mainly sells HKSI, IIQE, EAQE and SQE related exam products, provides HKSI LE Papers 1, 2, 3, 5, 6, 7, 8, 9, 11, 12 mock exam questions, and also sells them HKSI LE Papers 1, 2, 6, 7, 8 exam book, one-to-one private tutoring service, and free YouTube/Bilibili/Tencent/ for HKSI LE Papers 1, 2, 6, 7, 8, 12 iQIYI teaching video. 2CExam has many years of experience in the securities, insurance and real estate industries. If students need help, please visit www.2cexam.com.hk or contact the following methods:
Tel: +852 2110 9644 Email: [email protected]
WeChat: hk2cexam WhatsApp: + 852 9347 2064
Please support us by leaving comments and likes if you think this article helps you!
You can scan or click on the QR codes to visit our social media.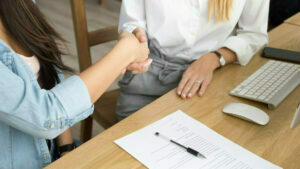 Should Hong Kong bank employees apply for an HKMA license or an SFC license? According to the licensing requirements for real estate practitioners, passing relevant qualification exams is a necessary condition for obtaining a real estate agent (individual) license or a salesperson license. The Hong Kong Securities and Futures Practitioners Qualification Exam (HKSI LE) is…