Is there an insufficient supply of positions in the securities industry?
There are contradictory opinions on the internet. Some say that the financial industry is in demand for talents; others say that the financial industry has burst, and there are too many monks with only a little porridge. From my experience in the recruitment industry at Paradox Recruitment, I think both situations are true, but embody within different positions.
Some positions are indeed filled with candidates, usually some positions with relatively low technical knowledge and less demand for contacts or experience. However, there are also some positions that are very rare. Even if you are looking for a professional headhunting company, you may not be able to find the ideal candidate. For example, some vacancies require a lot of experience in some non-popular products, and positions with strict compliance-related requirements. A number of jobs or high-demand jobs, etc. Therefore, the financial industry actually still has a lot of vacancies to open up. Here are 10 benefits of joining the securities and finance industry:
Being prestigious and gaining face
This may sound superficial, but in reality, having an identity can bring you convenience. For example, relatives will be proud of you while you are able to make friends more widely, furthermore, it is also easier to make boyfriends and girlfriends! Everyone should be familiar with the term 'financial talent', that financial professionals will naturally be covered by the halo of 'talented'.
Going upstream on the social ladder, getting to know more high-class people
Finance or banking are indicated to be the two industries in Hong Kong that can reach the most rich people! Knowing more rich people, along with getting appreciation or attention, the more you can have better fortune and have your network expanded. You will also have a new understanding of life experiences of vision and values, and you will no longer be a frog at the bottom of a well. In addition, getting to know high-class people can also help you become sociable, which is definitely beneficial to your personal growth.
More common topics with relatives and friends
When you grow up, it is no longer possible to talk about models and games only, but instead, stocks and insurance is more important for adults. After joining the financial industry, you can not only talk to them about the investment products you have bought, but also give out some free advice. Your relatives and friends will probably keep your favor in their hearts when they win.
Compared with some industries with less technical complexity, such as catering services, retail services, office administrative assistants etc., the securities and banking industries have higher starting salaries, even if you have recently graduated or just changed careers, you will not need to be frugal.
Be more sensitive towards the local economy
Daily work in the finance industry mostly involves a large number of local market investment products and their ups and downs data. Your advantage over other outsiders is that you can quickly grasp some trends in the local economy, though it may not help you win money and make a fortune, at least it may help you avoid the risk of losing too much to a certain extent.
Be more sensitive to numbers and brings convenience to life
The finance industry involves more numbers and data than ordinary industries. Get more immersed and your math skills will probably improve too. Maybe you may not benefit from this speculation, but you may have unexpected gains or avoid losses in daily life, such as being more aware of the carelessness of the clerk when checking out, knowing whether the number of tables is reasonable when paying bills, or being more prudent in your own budgeting.
Expand your network and reach out more friends from different industries
In many industries, you may only be able to contact customers on a daily basis, but in the financial industry, you can come into contact with thousands of people with different relationships and types of work, including lawyers, compliance, auditors, accountants, clients, executive search consultants. Your partners may even include people at different levels of the bank, other fund managers, other distributors, and more likely to include some (your company) investors, including start-up aspirants, IT companies and so on. This breadth of connections may be unexpectedly helpful later in your career.
With professional colleagues
In financial institutions, most of your colleagues are people with rich professional knowledge. Apart from making it easier to obtain professional assistance in your work, you can benefit a lot from them simultaneously. Most of the time, you should seize the opportunity to learn from them and enrich your inner self.
Deeper understanding of the law
Since the financial industry is inextricably linked with various legal provisions, you need to study numerous relevant laws before and after entering the industry. If you need to take the securities and futures practitioner qualification examination, it includes a large amount of Law-related knowledge. You will learn a handful of legal knowledge and logic, such as contract law, company regulations, civil law, criminal law, securities and futures regulations, banking regulations, anti-money laundering and terrorist financing regulations, etc.
Know more about global trends, trends, politics, etc.
Financial products usually do not serve on a regional scale, they are generally recognized around the world, and even a craze can be a big trend in the world, such as stocks, Bitcoin, NFT (non-fungible token, non-fungible token) and so on. Whenever a craze emerges, or any political or economic news may affect the price of financial products, as long as you are in the financial industry, you will definitely hear different news and opinions after dinner, which will become a firsthand source of investment related information.
Conclusion
The reason why the financial industry has been so attractive for so many years is not because it is a myth or a bubble, but because it has its advantages. If you have no idea about your future job-hunting direction, or if you want to join the financial industry but are still unsure, you may wish to refer to the personal opinions from the editors in the above.
How can we help you?
2CExam mainly sells HKSI, IIQE, EAQE and SQE related exam products, provides HKSI LE Papers 1, 2, 3, 5, 6, 7, 8, 9, 11, 12 mock exam questions, and also sells them HKSI LE Papers 1, 2, 6, 7, 8 exam book, one-to-one private tutoring service, and free YouTube/Bilibili/Tencent/ for HKSI LE Papers 1, 2, 6, 7, 8, 12 iQIYI teaching video. 2CExam has many years of experience in the securities, insurance and real estate industries. If students need help, please visit www.2cexam.com.hk or contact the following methods:
Tel: +852 2110 9644 Email: [email protected]
WeChat: hk2cexam WhatsApp: + 852 9347 2064
Please support us by leaving comments and likes if you think this article helps you!
You can scan or click on the QR codes to visit our social media.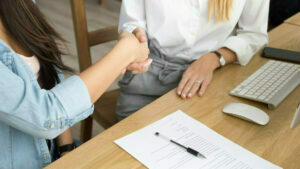 Should Hong Kong bank employees apply for an HKMA license or an SFC license? According to the licensing requirements for real estate practitioners, passing relevant qualification exams is a necessary condition for obtaining a real estate agent (individual) license or a salesperson license. The Hong Kong Securities and Futures Practitioners Qualification Exam (HKSI LE) is…