Students who are taking the IIQE or took it before would know that the study note is a several-hundred pages exam coverage full of long paragraphs. Not to mention the length of the texts, the expression of ideas requires the readers a lot of concentration to understand. Thus, some candidates think only studying the mock questions instead would be a fast and efficient way to do revision.
Indeed, the exam expert does not recommend candidates to study only the mock questions and recite them. It is preferable to spend more time comprehending the content written in the note and not take a shortcut.
Why You Should Not Study Only the IIQE note?
The efficiency of this study method is low. If the candidate only recites the answers to the questions and does not learn the reason behind or the logic, it is possible that he/she memorised them wrong (like taking a "no" as a "yes", taking "include" as "does not include").
When in the actual exam they may rephrase the question, change the wording, restructure the question terms, ask the reasons behind, turn the idea into a scenario-based question or compare and contrast relationships between different similar concepts. Candidates may lose points due to misunderstanding or lack of understanding.
Furthermore, the coverage of the insurance exams are broad and massive whereas human's short-term memories are unreliable, disallowing you to recite too much unprocessed information without linking them together at one time. When there are overloaded concepts in your head but you cannot connect them in a reasonable way, you may have a wrong memory or mix them up.
IIQE seats are in great demand. Many candidates are not able to register for the exam. If you unfortunately fail to get a seat, there is a high possibility you need to repeat the competition for a seat again. You should probably not risk your money using an unreliable study method.
If you unfortunately fail the exam, you need to do revision again probably from scratch. The time cost will be high.
Considering all of the above concerns, if you do not possess photographic memory, you may not want to take the risk.
Recommended Way to Study
We suggest the candidate prepare for the examination by the following steps:
1. Study 1 chapter in the study note
2. Finish the relevant topic in the Pass Paper Question Bank
By spending 20-25 hours doing the revision, about 80% of our candidates can pass the exam in their first attempt.
How can we help?
2CExam provides HKSI LE, IIQE, EAQE and SQE related exam preparation materials. We sell mock question banks for IIQE Papers 1, 2, 3, 5 and MPFE in Chinese and English; and bibles for IIQE Papers 1, 2, 3, MPFE in Chinese. We also offer 1 on 1 tutorial services. Besides, we have also made free tutorial videos for IIQE Papers 1, 2, 3 and MPFE and posted on public channels such as Youtube/ Bilibili/ Tencent/ Iqiyi. 2CExam has been an exam training expert for years. Should you need any help please visit www.2cexam.com or contact us through:
Phone +852 2110 9644 Email: [email protected] Wechat: hk2cexam WhatsApp: +852 9347 2064
Please support us by leaving comments and likes if you think this article helps you!
You can scan or click on the QR codes to visit our social media.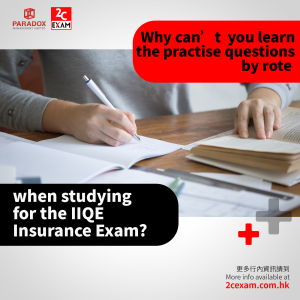 Students who have taken/ who are going to take the IIQE should know the study note is a several-hundred pages, paragraph form booklet illustrating the exam coverage. Not to mention the length of the text, the expression of concepts requires readers' intense concentration. So some candidates think that doing only the practise questions should be…