Many students who want to become insurance intermediaries may have some questions regarding what exams to take and what to pay attention to when issuing licenses; with that, they might not know who to ask. Should candidates ask 2CExam? PEAK? Or the Insurance  Authorities? 
In fact, PEAK is only responsible for organising exams, issuing exam questions, issuing study notes, and answering exam registration questions. However, when it comes to asking questions like: "Under what circumstances do I need to take the exam?" or "What exam do I not need to take?" there is a good chance that PEAK will not be able to help you in answering your questions. 
The Insurance Authority (IA) is responsible for the supervision and licensing of the insurance industry. The Insurance Authority (IA) will answer questions such as: What exams you need to take, with what academic qualifications or experience you can be exempted from taking certain exam papers, and whether you need to retake the exam after several years of resignation.
Contact method:
Insurance Authority (IA)
38999983  After dialing, select the language, then press 3, then press 2
19th Floor, 41 Heung Yip Road, Wong Chuk Hang (MTR Wong Chuk Hang exit B)
We recommend that students make inquiries using multiple channels, because relying on only one channel has the risk of not receiving any information, and there is the possibility that each employee may give you a different answer. Remember to consult more than one employee to get a more comprehensive understanding of your questions. However, the IA's phone calls are sometimes not answered. You will need to leave a message by saying your name, phone number, and the subject of the inquiry, and a staff member will call you back later.
If you want to inquire about some simple questions and get answers quickly, you can also read our other articles or contact 2CExam with the following contact methods.
How can we help?
2CExam provides HKSI LE, IIQE, EAQE and SQE related exam preparation materials. We sell mock question banks for IIQE Papers 1, 2, 3, 5 and MPFE in Chinese and English; and bibles for IIQE Papers 1, 2, 3, MPFE in Chinese. We also offer 1 on 1 tutorial services. Besides, we have also made free tutorial videos for IIQE Papers 1, 2, 3 and MPFE and posted on public channels such as Youtube/ Bilibili/ Tencent/ Iqiyi. 2CExam has been an exam training expert for years. Should you need any help please visit www.2cexam.com or contact us through:
Phone +852 2110 9644 Email: [email protected] Wechat: hk2cexam WhatsApp: +852 9347 2064
Please support us by leaving comments and likes if you think this article helps you!
You can scan or click on the QR codes to visit our social media.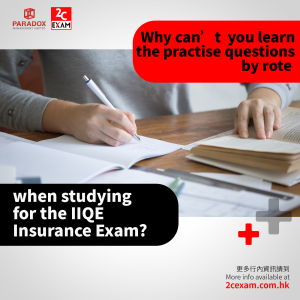 Students who have taken/ who are going to take the IIQE should know the study note is a several-hundred pages, paragraph form booklet illustrating the exam coverage. Not to mention the length of the text, the expression of concepts requires readers' intense concentration. So some candidates think that doing only the practise questions should be…