Before taking the HKSI LE securities exam, students need to do some preparations:
1. Registration
Students need to register for the exam on HKSI's website first.
2. Download the study manual
Students can download it for free after registration.
3. Search 2CExam's free video courses
Our senior tutors has navigated the main points of the exam for you throughout the classes. Students can search "HKSI Paper X class" (for example: HKSI paper 1 class) or 2C Exam.com to find related videos on Youtube.
4. For exam papers that need calculation, prepare or buy a financial calculator in advance
HKSI only accepts specific models of calculators. Unqualified calculators are not allowed to be used during the exam. Although the current computer-based exams also provide a financial calculator simulator, in order to be more familiar with and make good use of the built-in functions of the financial calculators to quickly obtain the answer while doing revision. It is recommended that students prepare/buy a Texas Instruments BA II Plus / Texas Instruments BA II Pro financial calculator for the exam.
5. Try to do the past paper published by HKSI in 2006 which contained 40 or 60 questions each paper
Although those past papers were published more than ten years ago, only a small portion of the questions were removed from the exam coverage. Most of which still have reference value. And there is no charge for this material.
This website is an online mock question product. The first chapter of each test paper is a free trial and can be used without charge or login.
7. If you feel that it is not enough, you can buy mock exam questions from 2CExam or
hksiiiqepasspaper.online
2CExam's mock test questions are paid products. Since it is a profit-making organization, it will invest more resources and accumulate more experience in designing exam products, so it has a high reference value.
8. Check if you bring your ID card/passport before departure on the exam day
If you used your ID card to register when you signed up for the exam, you need to bring your ID card; if you used a passport when you signed up, please bring your passport with you. Students who do not carry valid identification documents will not be allowed to enter the examination room.
9. Stay healthy
Candidates with fever can't enter the examination room!
How can we help?
2CExam provides HKSI LE, IIQE, EAQE and SQE related exam preparation materials. We sell mock question banks for HKSI LE Papers 1, 2, 3, 5, 6, 7, 8, 9, 11, 12 in Chinese and English; and bibles for HKSI LE Papers 1, 2, 6, 7, 8 in Chinese. We also offer 1 on 1 tutorial services. Besides, we have also made free tutorial videos for HKSI LE Papers 1, 2, 6, 7, 8, 11, 12 and posted them on public channels such as Youtube/ Bilibili/ Tencent/ Iqiyi. 2CExam has been an exam training expert for years. Should you need any help please visit www.2cexam.com.hk or contact us through:
Phone +852 2110 9644 Email: [email protected] Wechat: hk2cexam WhatsApp: +852 9347 2064
Please support us by leaving comments and likes if you think this article helps you!
You can scan or click on the QR codes to visit our social media.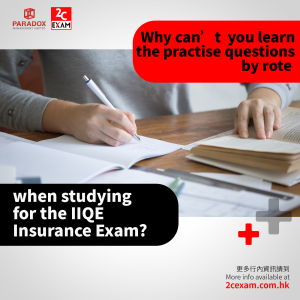 Students who have taken/ who are going to take the IIQE should know the study note is a several-hundred pages, paragraph form booklet illustrating the exam coverage. Not to mention the length of the text, the expression of concepts requires readers' intense concentration. So some candidates think that doing only the practise questions should be…