Do bibles include practise questions?
Bible and Pass Paper Question Bank are two separate products. "Bible" is composed by us according to HKSI's study manual and does not consist of any mock questions. It is a study note available in Chinese only as of now. "Pass Paper Question Bank" includes questions prepared by us, with no notes in there.
What does a bible look like?
The bible is a series of powerpoint that prepare students for the examination. It is a printed version of our youtube videos. You can refer to our list of youtube videos in the following link as an example. 
https://www.youtube.com/playlist?list=PLtmucToB0SE_CQSfoKIZxOFG6tfgamQso
As for the appearance of the bible, please reference:
2CEXAM 證券期貨考試天書 卷一,二,五,六,七,八,九,十二https://www.youtube.com/watch?v=f4Ct59bkH7g
**Product will be printed in black and white**
As once Youtube videos are uploaded, there is no way to update or amend them. Bibles will be  a little bit more updated than the Youtube videos. If you buy the bibles, you can view the video class and the bible at the same time. You can also make notes, highlight or draw on the bible.
For which papers does 2CExam offer bibles?
We have the following bibles in Chinese as of present. English version or other papers are coming soon.
HKSI LE Paper 1

HKSI LE Paper 2

HKSI LE Paper 6

HKSI LE Paper 7

HKSI LE Paper 8

HKSI LE Paper 12

IIQE Paper 1

IIQE Paper 2

IIQE Paper 3

MPF Exam / IIQE Paper 4
How can we help?
We sell products related to the HKSI LE exam and IIQE exam. Mainly we sell HKSI LE Pass Paper Question Bank and IIQE Pass Paper Question Bank. We also provide 1 on 1 tutorial sessions, study notes (bibles) in Chinese and YouTube tutorial videos in Chinese. 2CExam has been an exam training expert for years. Should you need any help please visit www.2cexam.com or contact us through:
Phone +852 2110 9644 Email: [email protected] Wechat: hk2cexam WhatsApp: +852 9347 2064
Please support us by leaving comments and likes if you think this article helps you!
You can scan or click on the QR codes to visit our social media.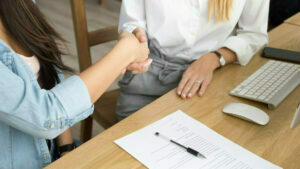 Should Hong Kong bank employees apply for an HKMA license or an SFC license? According to the licensing requirements for real estate practitioners, passing relevant qualification exams is a necessary condition for obtaining a real estate agent (individual) license or a salesperson license. The Hong Kong Securities and Futures Practitioners Qualification Exam (HKSI LE) is…