How are mock questions written by 2CExam? Are the questions past paper questions?
Due to intellectual property issues, 2CExam mock questions are not copied from the past papers, but composed by their own editors. The questions are different from the questions you are going to see in the actual exam. If they bear any resemblance it's pure coincidence. As the HKSI owns the copyrights, there is no past paper sold in the legal market.
2CExam's questions are written based on the coverage of the exam (HKSI's/ PEAK's study notes/ study guide downloaded from the EAA website), tutors' experience and past candidates' feedback on real exam questions they have difficulties with.
What are the specialties and advantages of 2CExam's question banks? 
2CExam has years of experience in exam training since 2013. Our tutors are experienced professionals which possess profound knowledge in the Securities, Insurance and Real Estate industries. The practise questions are tailor-made when candidates reflect on what tricked them or confused them in the real exams in order to help other candidates to meet multifarious challenges they will encounter in their coming exams. Plus, there are explanations and topic references below each question for candidates to find out how they got the wrong answer and pursue excellence.
Besides, money-back guarantee is provided for 2CExam's physical products. If candidates fail in their coming exam and fulfil all the requirements listed in the terms and conditions, they are entitled to a 100% full refund. This can surely give candidates confidence in our products.
How can we help?
We sell products related to the HKSI LE exam and IIQE exam. Mainly we sell HKSI LE Pass Paper Question Bank and IIQE Pass Paper Question Bank. We also provide 1 on 1 tutorial sessions, study notes (bibles) in Chinese and YouTube tutorial videos in Chinese. 2CExam has been an exam training expert for years. Should you need any help please visit www.2cexam.com or contact us through:
Phone +852 2110 9644 Email: [email protected] Wechat: hk2cexam WhatsApp: +852 9347 2064
Please support us by leaving comments and likes if you think this article helps you!
You can scan or click on the QR codes to visit our social media.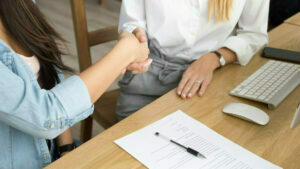 Should Hong Kong bank employees apply for an HKMA license or an SFC license? According to the licensing requirements for real estate practitioners, passing relevant qualification exams is a necessary condition for obtaining a real estate agent (individual) license or a salesperson license. The Hong Kong Securities and Futures Practitioners Qualification Exam (HKSI LE) is…