From time to time, students who purchase mock questions will ask us whether it is better to take the HKSI LE exam in Chinese or English?
If you have taken the exams several times and have paid attention to both the Chinese and English questions, you will find that the content of the questions in Chinese or English exam is the same. Sometimes some questions are more difficult to understand in Chinese but more comprehensive in English, and sometimes the other way round. This is because the large number of questions in the HKSI exam question bank are created by more than one person. Sometimes the questions are translated into English from Chinese, and sometimes the questions are translated from English into Chinese, hence the writing style is different.
Therefore, when choosing which language to take the exam, you should consider which language you have higher proficiency in; because if you take the computer-based exam, you can switch languages to view the translation at any time during the exam. If students can't understand the question, they can try to change the language so students can understand better what the question is asking. The paper-based exam also displays both Chinese and English. Since the answers to this exam are often hidden in the subtle words of the question, the most important thing is to use the language you are most familiar with, so that you can build a better understanding of the question and pay attention to the details. 
For some students who are concerned that they may use more English in their work in the future, despite that their mother tongue is Chinese. In this case, we still recommend students to take the exam in Chinese. If a candidate's English proficiency is not high, but forced to use English to partake in the exam, you may lose marks in the exam due to misunderstanding or not understanding English tenses, word meanings (especially ambiguous words), sentence patterns, etc. Comprehension, understanding, and digesting the content of the exam are the most important part of the exam. As for English vocabulary, it is not too late to study until you finish the exam.
How can we help?
2CExam provides HKSI LE, IIQE, EAQE and SQE related exam preparation materials. We sell mock question banks for HKSI LE Papers 1, 2, 3, 5, 6, 7, 8, 9, 11, 12 in Chinese and English; and bibles for HKSI LE Papers 1, 2, 6, 7, 8 in Chinese. We also offer 1 on 1 tutorial services. Besides, we have also made free tutorial videos for HKSI LE Papers 1, 2, 6, 7, 8, 11, 12 and posted on public channels such as Youtube/ Bilibili/ Tencent/ Iqiyi. 2CExam has been an exam training expert for years. Should you need any help please visit www.2cexam.com or contact us through:
Phone +852 2110 9644 Email: [email protected] Wechat: hk2cexam WhatsApp: +852 9347 2064
Please support us by leaving comments and likes if you think this article helps you!
You can scan or click on the QR codes to visit our social media.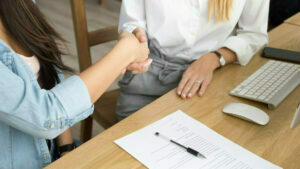 Should Hong Kong bank employees apply for an HKMA license or an SFC license? According to the licensing requirements for real estate practitioners, passing relevant qualification exams is a necessary condition for obtaining a real estate agent (individual) license or a salesperson license. The Hong Kong Securities and Futures Practitioners Qualification Exam (HKSI LE) is…