Many students who are new to the insurance industry would ask us: " Which paper should I take first when the Insurance Intermediaries Qualifying Examination (IIQE) has that many papers? "
Which exam paper should I take first?
The Insurance Authority (AI) has no requirement for the order of passing the exam in all the qualification exam papers. Candidates can apply for different exam papers according to their needs and decide the order of their own. We recommend that students start with the paper 1 exam, because the paper 1 exam is the foundation, and many of the other papers are part of the content of the paper 1 exam, or an extension of a certain chapter of the paper 1 exam. Studying paper 1 allows the candidate to have a relatively macro and clearer mind map of various concepts, hence it is easier for the candidates to connect the different concepts.
Let me briefly talk about the characteristics of other IIQE exam papers
The examination content for paper 2 is an extension of general insurance. Generally speaking, the length of this exam is short but the content itself is more challenging compared to other papers; as it covers quite a broad spectrum of knowledge that does not have direct connections or similarities between each of the concepts. However, the first two chapters of the paper 2 exam have amounted to 80% of the entire paper. 
Paper 3's content consists of an extension of long-term business examination topics, which in comparison is relatively short and easy to understand compared to other papers. In other words, paper 3 is the easiest paper among all 4 papers. 
Paper 5 is an exam for insurance intermediaries who sell investment-related insurance products. This paper contains a lot of economics, financial and risk-related examination topics; hence candidates will need to recite formulas and calculation methodologies. The length of the exam is relatively longer than other papers. As per the difficulty level of the paper 5's exam, we would say that it is average in difficulty. The IIQE paper 5 exam has a high level of similarity with the HKSI LE paper 7 and 8. 
How can we help?
2CExam provides HKSI LE, IIQE, EAQE and SQE related exam preparation materials. We sell mock question banks for IIQE Papers 1, 2, 3, 5 and MPFE in Chinese and English; and bibles for IIQE Papers 1, 2, 3, MPFE in Chinese. We also offer 1 on 1 tutorial services. Besides, we have also made free tutorial videos for IIQE Papers 1, 2, 3 and MPFE and posted on public channels such as Youtube/ Bilibili/ Tencent/ Iqiyi. 2CExam has been an exam training expert for years. Should you need any help please visit www.2cexam.com or contact us through:
Phone +852 2110 9644 Email: [email protected] Wechat: hk2cexam WhatsApp: +852 9347 2064
Please support us by leaving comments and likes if you think this article helps you!
You can scan or click on the QR codes to visit our social media.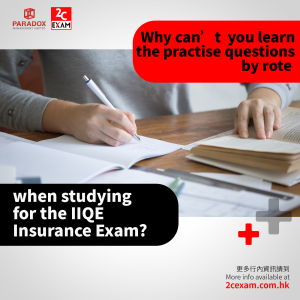 Students who have taken/ who are going to take the IIQE should know the study note is a several-hundred pages, paragraph form booklet illustrating the exam coverage. Not to mention the length of the text, the expression of concepts requires readers' intense concentration. So some candidates think that doing only the practise questions should be…