Is there a threshold for the real estate examination?
There are no thresholds when it comes to partaking in the real estate exam; your nationality, age, education, work experience, and professional qualifications do not matter when it comes to applying for the real estate exam. As long as one can afford the exam fee, even a 3-year-old child can take the exam. Because taking the exam and getting a passing result is just one of the licensing conditions. Passing the exam does not mean successfully obtaining a license. Passing the exam does not mean that you will be able to successfully apply for a license. Passing the exam and applying for a license are two different things.
As for the conditions to apply for a real estate license, you need to refer to: The real estate examination is not held by the Estate Agent Authority? 5 tips for entering the industry.
Although there are no restrictions on qualifications and experience of the exam takers, there are some policies in place to prevent students from abusing the exam slots.
Students can take the exam as long as they meet the following requirements:
Have not passed the same subject in the past 12 months, up until the day before applying for the EAQE/SQE exam
To apply for EAQE, you cannot hold a valid / expired real estate agent license within the past 24 months
In order to apply for SQE, you cannot hold a valid / expired real estate agent or salesperson license within the past 24 months
Applicants for SQE cannot take more than one SQE exam in the same month
For details, please refer to: http://www.eaa.org.hk/Portals/0/Sections/Exam/2021/Handbook/CBE_HB_eng.pdf
In other words, as long as you do not hold the relevant real estate license or have not passed the relevant examinations at present or within the last 24 months, you can participate in the examination. 
How can we help?
2CExam provides HKSI LE, IIQE, EAQE and SQE related exam preparation materials. We sell mock question banks for IIQE Papers 1, 2, 3, 5 and MPFE in Chinese and English; and bibles for IIQE Papers 1, 2, 3, MPFE in Chinese. We also offer 1 on 1 tutorial services. Besides, we have also made free tutorial videos for IIQE Papers 1, 2, 3 and MPFE and posted on public channels such as Youtube/ Bilibili/ Tencent/ Iqiyi. 2CExam has been an exam training expert for years. Should you need any help please visit www.2cexam.com or contact us through:
Phone +852 2110 9644 Email: [email protected] Wechat: hk2cexam WhatsApp: +852 9347 2064
Please support us by leaving comments and likes if you think this article helps you!
You can scan or click on the QR codes to visit our social media.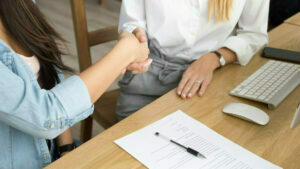 Should Hong Kong bank employees apply for an HKMA license or an SFC license? According to the licensing requirements for real estate practitioners, passing relevant qualification exams is a necessary condition for obtaining a real estate agent (individual) license or a salesperson license. The Hong Kong Securities and Futures Practitioners Qualification Exam (HKSI LE) is…