What is the functional difference between the EAQE and SQE exam?
EAQE has broader functions than SQE. Basically, the EAQE exam is omnipotent. If you want to become an estate agent, you must take the EAQE, which is also known as the Estate Agent Qualifying Exam. EAQE results can also be used to apply for a salesperson license to become a real estate salesperson. Therefore, if you are interested in opening an agency on your own in the future, or if you want to become a manager, you can pass the EAQE exam first, and then you don't need to take the exam again in the future. After becoming a real estate agent, all the duties that a salesperson is eligible to partake in can be done by an estate agent; in contrast, a salesperson cannot partake in some of the estate agent's designated duties. In other words, The SQE Salesperson Qualifying Exam has only one function, which is to enable a person to apply to be a salesperson.
| | | |
| --- | --- | --- |
| Licenses that can be applied for \\examination | EAQE | SQE |
| Estate Agent | ✓ | |
| Estate Salesperson  | ✓ | ✓ |
What is the difference between the estate agent license and estate agent salesperson license?
There are two types of licenses for real estate practitioners: real estate agent and real estate salesperson. Only real estate agents are eligible for sole proprietorship, partnership operation of real estate agency companies, branch managers or directors involved in real estate agency business. Real estate salespersons need to partake in the EAQE exam in order to be eligible in performing the above actions.
| | | |
| --- | --- | --- |
| Responsibilities\\License Type | Estate Agent License | Salesperson License |
| Manager | ✓ | |
| Estate sales role  | ✓ | ✓ |
What is the difference in content between EAQE and SQE?
In terms of exam content, EAQE will have two more chapters compared to the SQE exam, and the scope of both exams includes the Study Guide to Estate Agency Law and Practice. The EAQE exam covers chapters 1 to 8 of the Study Guide to Estate Agency Law and Practice. On the other hand, SQE examination does not include Chapter 6-Principles and Practices of Property Valuation and Chapter 8-Effective Agency Management and Supervision of Salespersons to Ensure Compliance, that is, only chapters 1 to 5 and chapter 7 are required.
EAQE

SQE

Covers real estate agency law and practice study guide

A total of 8 chapters

Covers real estate agency law and practice study guide

A total of 6 chapters (1-5, 7)
The Study Guide to Estate Agency Law and Practice is one of the scope of the examination, which can be downloaded for free from the website of the Estate Agent Authority:
http://www.eaa.org.hk/en-us/Information-Centre/Publications/A-Study-Guide-to-Estate-Agency-Law-and-Practice
For other review scopes, please refer to What is the difference between a real estate agent and a real estate salesperson?
In general, EAQE has more content and functions than SQE.
Why is it better to take the EAQE exam than an SQE exam?
After taking the EAQE exam, there will be more choices. You can be a real estate agent or a real estate salesperson by taking EAQE, but you can only be a salesperson by taking SQE. In case your prospective company has different expectations of you after you finish the exam, or if your mentality changes in the future, there is no need to take the exam again if you decide to take the EAQE in the first place. Furthermore, if the student was originally a salesperson, but he needs an estate agent license in the future, the examination fee will be eroded by taking one more real estate exam. In addition, because the second part of the EAQE exam consists of more case studies related questions, which is more or less dependent on the solidity of your knowledge and less on luck itself, therefore one is less likely to fail due to lack of luck. 
How can we help?
2CExam provides HKSI LE, IIQE, EAQE and SQE related exam preparation materials. We sell mock question banks for IIQE Papers 1, 2, 3, 5 and MPFE in Chinese and English; and bibles for IIQE Papers 1, 2, 3, MPFE in Chinese. We also offer 1 on 1 tutorial services. Besides, we have also made free tutorial videos for IIQE Papers 1, 2, 3 and MPFE and posted on public channels such as Youtube/ Bilibili/ Tencent/ Iqiyi. 2CExam has been an exam training expert for years. Should you need any help please visit www.2cexam.com or contact us through:
Phone +852 2110 9644 Email: [email protected] Wechat: hk2cexam WhatsApp: +852 9347 2064
Please support us by leaving comments and likes if you think this article helps you!
You can scan or click on the QR codes to visit our social media.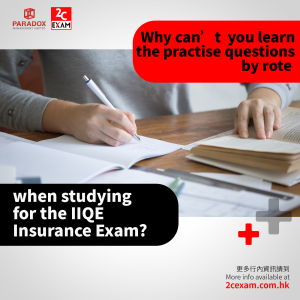 Students who have taken/ who are going to take the IIQE should know the study note is a several-hundred pages, paragraph form booklet illustrating the exam coverage. Not to mention the length of the text, the expression of concepts requires readers' intense concentration. So some candidates think that doing only the practise questions should be…