Questions regarding applying for a license after passing the HKSI exam 
Students often inquire about licensing issues after passing the HKSI LE examination. Many people ask what other factors will affect the licensing besides the examination results ? In fact, there are several conditions that need to be met:
The first one is to pass the HKSI LE exam;
secondly, is that you have to be engaged in a registered institution or a licensed corporation to apply for a license/registration for you. The Hong Kong Securities and Futures Commission only accepts the registration of//license application from institutions.If you pass the exam, but never apply for a license, your results will expire after 3 years.
Thirdly, in order to apply for a license, some personal conditions need to be met, such as creditworthiness, financial status, and whether one has a criminal record. Simply put, you should have no recent records of bankruptcy or any criminal behavior. Generally speaking, most people can be qualified for this condition.
So the key is to find a job. If you find a job, your application or registration will be much simpler. The exam results are valid for 3 years. If you can't find a job in these 3 years, your exam result will basically expire. 
Lastly, let's assume you found a company that is willing to apply for your license, but you eventually decided to leave, what will happen to your license? In this case. If you leave your job, you should find another company to hire you as soon as possible, and then apply to the Securities and Futures Commission for the transfer of license/registration within half year of your resignation. The relevant license/registration can be retrieved quickly within half a year after resignation, and you do not need to retake the exam. However, the license type must be of the same property with the previous one. Otherwise, you may need to take the relevant exam(s). If it is a license of the same property, for example, if you originally hold a type 1 license, and now you need to apply for 1, 4 licenses, the SFC will decide whether to grant you the type 4 license based on your qualifications, since you already have the type 1 license, therefore it is not required for you to retake HKSI LE paper 7 and 8,  as the license is retrievable. If it is a license type that is not very relevant, for example, you were originally a representative of  type 2 license, and now you want to become a representative of license type 2 and type 9, you may have to take the HKSI LE Paper 12 to get the license type 9.
How can we help?
2CExam provides HKSI LE, IIQE, EAQE and SQE related exam preparation materials. We sell mock question banks for IIQE Papers 1, 2, 3, 5 and MPFE in Chinese and English; and bibles for IIQE Papers 1, 2, 3, MPFE in Chinese. We also offer 1 on 1 tutorial services. Besides, we have also made free tutorial videos for IIQE Papers 1, 2, 3 and MPFE and posted on public channels such as Youtube/ Bilibili/ Tencent/ Iqiyi. 2CExam has been an exam training expert for years. Should you need any help please visit www.2cexam.com or contact us through:
Phone +852 2110 9644 Email: [email protected] Wechat: hk2cexam WhatsApp: +852 9347 2064
Please support us by leaving comments and likes if you think this article helps you!
You can scan or click on the QR codes to visit our social media.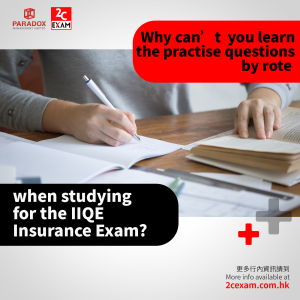 Students who have taken/ who are going to take the IIQE should know the study note is a several-hundred pages, paragraph form booklet illustrating the exam coverage. Not to mention the length of the text, the expression of concepts requires readers' intense concentration. So some candidates think that doing only the practise questions should be…