How to register for the exam? How to prepare?
What?! The HKSI exam result is not a license?
HKSI, Hong Kong Securities and Investment Institute's designated LE's (Licensing Examination, Qualifying Examination) passing result is one of the competency requirements for applying for a license to become a representative and/or responsible officer. However, HKSI is a private organization independent of the government. Although its LE exam is recognized by the Securities and Futures Commission as one of its competence references, HKSI is not a licensing organization, and HKSI LE's qualified results will not grant the exam takers any permissions nor rights. The license for regulated activities in the securities industry is granted by the Securities and Futures Commission (SFC). The SFC is responsible for overseeing Hong Kong's securities and futures activities. It is the regulator of Hong Kong's securities industries, but it does not hold examinations. Therefore, the exam must be taken through HKSI, and not in SFC.
Notes for applying for a securities practitioner license
According to the HKSI official exam manual, the HKSI LE exam results are valid for 3 years from the exam date. If the candidate does not apply for a license within 3 years after the exam date, the results will be invalid. If students take the written exam, the results will not be announced on the day of the exam, but the validity date still will be calculated from the exam date for 3 years. 
To apply for an SFC license, sometimes it is necessary to apply for more than one examination and obtain passing results in those exams. To know which test papers you should take, you can refer to the Guidelines on Competence issued by the SFC. If students need to take more than one exam to obtain a license, they must ensure that they pass the required exam papers and apply for a license within 3 years (from the date of the first exam). If students take the written exam, the results will not be announced on the day of the exam, but the validity period will still be 3 years from the exam date. For example: if a student takes the HKSI LE Paper 1 exam on January 1, 2021, but still needs to take the HKSI LE Papers 7 and 8 to apply for a license, the student must obtain a passing grade for paper 7 and 8 before 1st of January, 2024. If the student has not submitted the license application procedure on January 2, 2024, the results of HKSI LE Paper 1 will be invalid, and the 3-year validity period must be recalculated from the next examination date of the subject of which the student has obtained a passing result. The three-year validity period is considered as quite reasonable, as long as you have completed a combination of exams and successfully applied for a license, with the condition that the license is not terminated or revoked, you do not need to re-take the exam and the license will remain valid.
In addition to Paper 1, the HKSI LE exams are divided into exams required for Responsible Officer (RO) or Executive Officer (EO) and for the representative (Rep).
Please refer to Differences among SFC RO, HKMA EO and Representatives for the differences between Responsible Officer and representatives
Please refer to https://www.youtube.com/watch? v=JIEAwQfBUiE for the difference between Responsible Officer and a Executive Officer 
Examination papers required to be taken to become a licensed representative
Which exam papers you need to take depends on what activity you want to engage in. In other words, it depends on what service or product you want to sell or provide. For example, if you want to trade securities products such as Hong Kong stocks, US stocks, bonds, etc. on behalf of your clients, you need to partake in the HKSI LE paper 1, 7, and 8 exam.
Exemption Information Reference  
Examination papers required to be taken to become a Responsible Officer 
The principle of the examination for the responsible officer and the licensed representative is the same. It depends on the type of activity you are engaged in, that is, it depends on what financial products/services the company you will work for wants you to regulate. For example, if you need to regulate type 2 and type 5 activities, that is, dealing in futures contracts and advising on futures contracts, you will only need to partake in the HKSI LE Paper 1 and 3 exam. If you have taken HKSI LE Paper 1 and applied for a license as a licensed representative prior to becoming a responsible officer, you do not need to retake HKSI LE Paper 1 again, you only need to partake in  HKSI LE Paper 3 exam. You can first refer to the following chart to evaluate what combination of exam papers you need to take, and then refer to the exemption conditions to determine whether you need to take the entire combination of exam papers.  
For exemption information, please refer to: 
If you successfully applied for a license after completing the HKSI LE designated exams, as long as you do not leave your job, the license can be retained without any additional exams.
How to register for the HKSI LE exam
The HKSI LE exam must be registered at HKSI, not the SFC. There are two ways to register. The most popular one is online registration, followed by in-person registration.
register online:
To register for the exam, you must first register as a member of the HKSI https://login.hksi.org/login
Click "Activate/Create Account"
Fill in information such as title, English name, Chinese name, phone number, email address, ID card number, etc. Please make sure that the information is correct, otherwise students may miss important messages
Check the "HKSI Institute Online Portal Account-First Time Login" email sent by "HKSI Institute", and enter the link provided to activate the account
Sign in
Select the exam paper you want to apply to partake in
Click the drop-down menu until it expands. If the student has a desirable exam time slot or deadline, they can enter their date preferences into "Examination date from:" or/and "Examination date to:"
If students only want to see the available time slot, they can click  the " Available for Enrolment and Not Yet Full " button
Click "Search" and you will see the sessions that are still available for registration currently
You can click on the checkbox to the left of the date to register for the exam
After the selection is complete, slide down and press "Add to Cart"
If you need to register for more than one exam, you can click "Add Other" in the pop-up window and start over from step 7; if you have completed all the selections, you can click "Checkout"
Check whether the session(s) and time slot(s) are correct, if the details are selected correctly, tick "I have read and agree to the terms and conditions of use" and click "Start payment"
Choose the payment method (VISA/ MASTER/ American Express/ UnionPay/ VisaCheckout/ MasterPass/ PPS) and follow the instructions to make the payment. It may be necessary to use a mobile phone SMS to send a one-time password
After the payment is completed, it will return to the HKSI page with a line of green text saying "Thank you for choosing the institute! "And you will receive an email. The following questionnaire is filled out according to your personal situation
If you wish to view the session(s) and time slot(s) or download the study manual, you can log onto the online portal. Located on the right, there is a menu bar where you can select "Upcoming activity" >> "Examination", from there you will be able to see the information and resources needed.  
Video tutorial:
[2020] How to register for the HKSI LE Securities and Futures Practitioner Qualification Examination? .VID156 https://youtu.be/lCHqY78-QGc
Sign up in person:
You can go to the exam center counter to register during HKSI office hours, but you are not immediately ensured that the application is successful. Your application will take about 4 working days to process.
The address is Room 510, 5th Floor, Wing On Center, 111 Connaught Road Central, Hong Kong
But due to the outbreak of the pandemic, the opening hours have changed:
           Opening hours in April 2021: Monday to Friday from 12:30 pm to 2:30 pm
           Opening hours from May 2021: Monday to Friday from 10 am to 4 pm
If you want to know more about the changes of the opening hours, please browse the HKSI bulletin board (Notices) at: 
An administrative fee of HK$100 will be charged for each application form (EPS/Master/Visa accepted)
How to download the official review manual
If you want to download the review scope compiled by HKSI, you can log in to the HKSI website to download the "Study Manual" for free after registering for the exam.
After logging in on the online portal, select "Upcoming Activity" from the menu on the right-hand side
Choose "Examination"
Select " download" next to the session key under "Study Manual" next to Admission Form download link
Tutorial videos (applicable for 2018-2021):
How to obtain a study manual for the HKSI LE Examination 2018.VID007
Is there any other way to ensure that I am more prepared in achieving qualified results?
The pass rate of HKSI LE has always been a major concern for many candidates. As an expert in exam preparation, below is a revision method we recommend our candidates to follow: 
1. First study the official study manual / a topic of 2CExam Youtube video class
2. Complete one topic of the 2CExam mock exam 
This review method takes 20-25 hours and statistically has a pass rate of 80%.
No statistics are available for other revision methods.
2CExam is a company specializing in training candidates to take the securities, insurance and real estate exams. For HKSI LE, 2CExam has produced free Cantonese video tutorials for Papers 1, 2, 6, 7, 8, 12, which are publicly released on some well-known video sharing websites at no additional charge. If students have difficulty understanding the content of the study manual when studying for the HKSI paper 1, 2, 6, 7, 8, 12, they can choose to watch the video classes. If you want to purchase revision materials to better understand the content of the exam, you can browse www.2cexam.com (hard copy product) or www.hksiiiqepasspaper.online (online version)
Can I do mock questions without reading the study manual? 
It is not recommended that students only do mock questions without looking at the study manual. Similar to Hong Kong's primary and secondary education, students are always encouraged to absorb the learning materials before doing the practice exercises. It is highly recommended that students deepen their understanding of the study manual content by doing the mock exam questions. If the student did not look through and study the study manual, prior to doing the mock questions, this will impact the student's chances of absorbing the knowledge adequately, and that may even cause misunderstanding of the relationship between questions and answers. 
How can we help?
2CExam provides HKSI LE, IIQE, EAQE and SQE related exam preparation materials. We sell mock question banks for HKSI LE Papers 1, 2, 3, 5, 6, 7, 8, 9, 12 in Chinese and English; and bibles for HKSI LE Papers 1, 2, 6, 7, 8 in Chinese. We also offer 1 on 1 tutorial services. Besides, we have also made free tutorial videos for HKSI LE Papers 1, 2, 6, 7, 8, 12 and posted on public channels such as Youtube/ Bilibili/ Tencent/ Iqiyi. 2CExam has been an exam training expert for years. Should you need any help please visit www.2cexam.com or contact us through:
Phone +852 2110 9644 Email: [email protected] Wechat: hk2cexam WhatsApp: +852 9347 2064
Please support us by leaving comments and likes if you think this article helps you!
You can scan or click on the QR codes to visit our social media.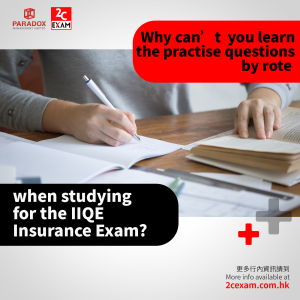 Students who have taken/ who are going to take the IIQE should know the study note is a several-hundred pages, paragraph form booklet illustrating the exam coverage. Not to mention the length of the text, the expression of concepts requires readers' intense concentration. So some candidates think that doing only the practise questions should be…