"If you have money, buy insurance, if you don't have money, you can sell insurance." I wonder if you have heard of this saying. Many people rely on insurance to support themselves and their families. Before entering the industry to sell insurance, you need to take at least 2 Insurance Intermediaries Qualifying Examination (IIQE) exam papers.
Where should I register for the exam?
The IIQE exam is organized by the Vocational Training Council's Institute of Professional Education and Knowledge (VTC PEAK). VTC PEAK is a statutory organization that provides professional education and training in Hong Kong. It is accredited to provide candidates with resources to take the IIQE exam and to conduct exams. However, students need to apply for a license with the Insurance Authority after completing the exam, because VTC PEAK is only responsible for organizing the exam, and not for any license application matters.
Passing the exam and applying for a license are two different things?
Before entering the insurance sales industry, in addition to passing the exam, you also need to meet other licensing requirements, such as age, education, work experience, criminal record, and financial status before you can apply for a license. Therefore, passing the exam is only one of the conditions when it comes to applying for a license. Passing the exam does not mean obtaining a license, nor can you start your insurance business immediately. As mentioned earlier, you can register for the exam at VTC PEAK and get the review scope of the exam by downloading their study notes.
Beginning in September 2019, the Insurance Authority (IA) has taken over the supervision of the entire insurance industry's compliance matters, including processing the license applications of insurance practitioners and supervising the insurance business of insurance companies and insurance brokerage companies. Please refer to https://2cexam.com.hk/A1047_eng/ for the difference between an insurance company and insurance broker company. In other words, before becoming an insurance agent or insurance broker, you need to comply with the "Insurance Ordinance" (Chapter 41)  "Fit and Proper" Guidelines (GL23/Guideline 23) issued by the IA and the "Licensed Insurance Intermediary" Continuing Professional Training Guidelines (GL24/Guideline 24) for licensing requirements. For example, a candidate looking to apply for licensure must pass all 5 subjects in the Hong Kong Certificate of Education Examination (HKCEE) or the Hong Kong Diploma of Secondary Education Examination (HKDSE), and among them 2 of the subjects must include Chinese, Mathematics or English, Mathematics. In short, IA is the licensing agency for the insurance industry, but IA does not hold examinations by itself. 
Will IIQE's insurance exam results become invalid?
According to the "fit and proper" guidelines issued by the Insurance Authority (guideline 23), the insurance intermediary qualifying examination (IIQE) results are valid for only 2 years. If a student has not successfully applied for a license with the exam results within 2 years from the exam date, the exam results will be invalid and you will need to take the exam again. When a student is required to take more than one exam paper, they need to pay particular attention to the dates on which they have passed each of the exams within their targeted exam combination, as the 2 year validity period is calculated from the time the student has passed their 1st exam paper. In other words, suppose you need to take IIQE paper 1,2,3 and you have decided to first conduct your paper 1 exam on 1st of January 2021, once you have passed paper 1, you will then need to undergo your paper 2 and 3 exams before the 1st of January 2023. After completing the required exams, you will then fulfill one of many conditions that will subsequently enable you to apply for a license . At the same time, it should be noted that the results of the written exam will not be announced until 7 days at the earliest, but the 2-year validity period is calculated from the exam date, not the date of the grade release. If the exam results have surpassed the 2 year validity period, then one must retake the exams, as the results are no longer valid.
How many test papers do I need to take?
It depends on what kind of insurance you want to sell, or what kind of insurance your company wants you to sell. If you do not have any internationally recognized insurance-related professional qualification, it is generally necessary to take more than one exam. For exemption information, please refer to Insurance Intermediary Qualification Examination (IIQE) Exemptions
Students can refer to the following list. For example, if you want to sell general insurance policies, you need to take IIQE Papers 1, 2. If you want to sell long-term insurance, you need to take IIQE Papers 1, 3. If you need to conduct long-term business including "investment-linked" insurance policies, you need to take IIQE Papers 1, 3, 5.
If students need to sell travel insurance policies, they can choose to take IIQE Papers 6 or IIQE Papers 1+2.
After you have taken the exam and obtained a satisfactory result, you will need to find an insurance company or insurance broker to apply for a license. Please refer to https://2cexam.com.hk/A1060_eng/ for details of the application.
After the exams, is there a validity period for the license obtained?
Although the exam results have an expiration date, when you successfully apply for a license based on the exam results, things become simple. Because as long as you do not leave the insurance company or brokerage firm where you applied for your license, your license will be permanently valid and you do not need to take the IIQE exam. Conversely, once you leave your insurance company or brokerage firm and do not find another insurance company or broker to list your license again within 2 years after leaving, you will need to retake the relevant IIQE exam combination once again.
Please support us by leaving comments and likes if you think this article helps you!
You can scan or click on the QR codes to visit our social media.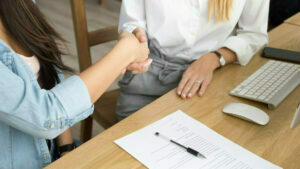 Should Hong Kong bank employees apply for an HKMA license or an SFC license? According to the licensing requirements for real estate practitioners, passing relevant qualification exams is a necessary condition for obtaining a real estate agent (individual) license or a salesperson license. The Hong Kong Securities and Futures Practitioners Qualification Exam (HKSI LE) is…